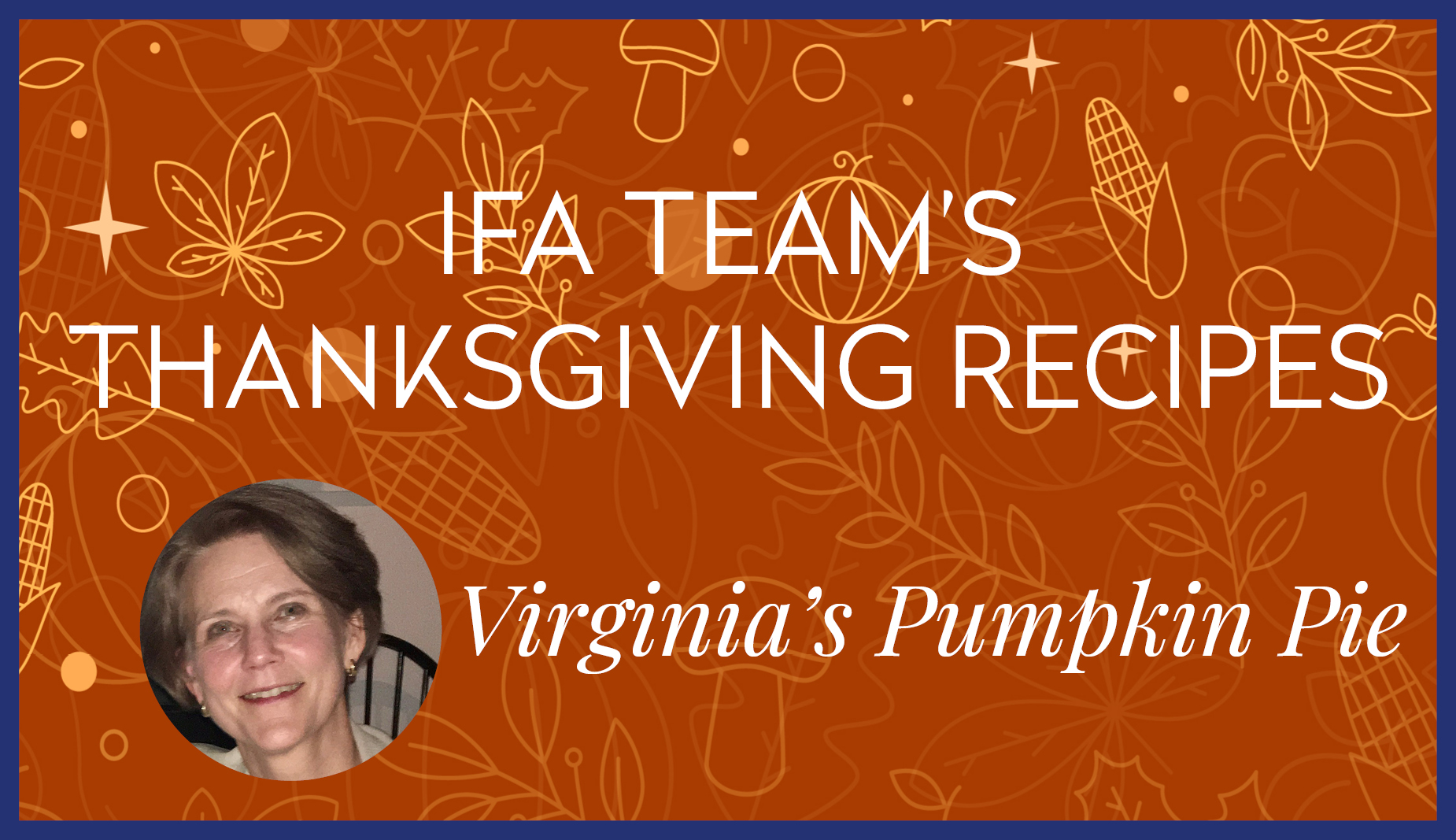 IFA Team's Thanksgiving Recipes ★ Virginia
Virginia's Pumpkin Pie
« I was something that lay under the sun and felt it, like the pumpkins, and I did not want to be anything more. I was entirely happy. Perhaps we feel like that when we die and become a part of something entire, whether it is the sun and air, or goodness and knowledge. At any rate, that is happiness; to be dissolved into something complete an great. When it comes to one, it comes as naturally as sleep. »
« On Sunday Morning, Otto Fuchs was to drive us over to make the acquaintance of our new Bohemian neighbors. We were taking them some provisions as they had come to live on a wild place where there was no garden …. (G)randmother packed some loaves of Saturday's bread, a jar of butter, and several pumpkin pies …. »

My Antonia by Willa Cather
---
 » It was time to take the pumpkin out of the pot and eat it. In the final analysis, that was what solved the big problems of life. You could think and think and get nowhere but you still had to eat your pumpkin. That brought you down to earth. That gave you a reason for going on. Pumpkin. »

The Number One Ladies Detective Agency by Alexander McCall-Smith
---
In hommage to Willa Cather and Alexander McCall-Smith, here is my favorite recipe for pumpkin pie:
Virginia, Présidente de l'Institut franco-américain
Pumpkin Pie
(from The Joy of Cooking by Irma Rombauer – the book Julia Child called "a fundamental resource for any American cook")
Irma Rombauer says: « to cook pumpkin, wash and cut it in half, crosswise. Remove seeds and strings. Place it in a pan, shell side up, and bake it in a 325° (160°, T5/6) oven for 1 hour or more, depending on the size, until it is tender and begins to fall apart. Scrape the pulp from the shell and put it through a ricer or strainer. »
I cut off the skin, remove the seeds and strings, cut it into large pieces and steam it until it is very soft. Then I drain it for a couple of hours in a strainer.
Ingredients
1 pie dough (I always use « pate feuilleté)
2 cups (460 g.) cooked pumpkin or squash (I used « potiron » but you can also use butternut squash)
1 1/2 cups (400 g.) undiluted evaporated milk (= lait concentré non-sucré, de préférence « entier »)
1/4 cu (60 g.) brown sugar (= sucre « saveur vergeoise », blonde nature)
1/2 cu (110 g.) white sugar ( = sucre en poudre)
1 tsp (= 1 c. à c) cinammon ( = cannelle moulue)
1/2 tsp (= 1/2 c à c) ginger ( = gingembre)
1/4 tsp (= 1/4 c à c) nutmeg ( = noix de muscade) or allspice ( = poivre de Jamaïque)
1/4 tsp (= 1/4 c à c) salt
1/8 tsp (= 1/8 c à c) ground cloves (= clou de girofle moulu)
2 eggs, slightly beaten
Line the pie pan with the pie dough (do not pre-bake). Mix all of the rest of the ingredients and pour into pie shell. Bake 15 minutes at 425° (220° ou T7), then reduce heat to 350° (175° ou un peu moins que T6) and bake about 45 minutes longer or until an inserted knife comes out clean.
Irma Rombauer recommends serving with whipped cream flavored with 2 Tbsp (c à S) of bourbon