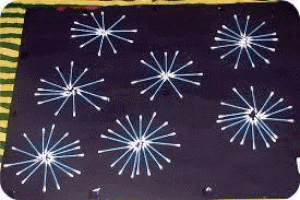 Workshops in English for kids ! Ateliers en anglais pour enfants
Mercredi 5 juillet – A partir de 15h
4th of July fireworks (3-5 yo)
Fireworks dates back to 7th century China. Then they were used In Europe to celebrate significant events like military victories, religious festivals, and the crowning of kings and queens. However, the first anniversary celebrations of independence in 1777 marked the most widespread use of fireworks in a shared American celebration, and the tradition continues to this day.
> Let's paint some Q-tips and make beautiful fireworks.
4th of July Star Man (5-7)
The colors of red, white and blue and the stars are typically associated with the American flag. White signifies purity and innocence, Red, hardiness and valour, and Blue, vigilance, perseverance and justice. The stars represent the 50 states of the USA.
> The Star Man is med with colored paper and has googly eyes for more fun.
Statue of Liberty Crown (7-10)
The statue, whose formal name is « Liberty Enlightening the World, » was dedicated in 1886 by President Grover Cleveland. It was a gift from France. The statue initially functioned as a lighthouse and was administered by the U.S. Lighthouse Board. The seven spikes on the crown of the statue represent the seven seas and continents of the world, according to the National Park Service.
> The crown can be cut more precisely to be perforated. And, of course, children will be able to color some 4th of July symbols and take them home if they want to!
> 5€ (3€ for members) – Booking : Caroline at the library : 02 99 79 89 22/23 – biblio@ifa-rennes.org