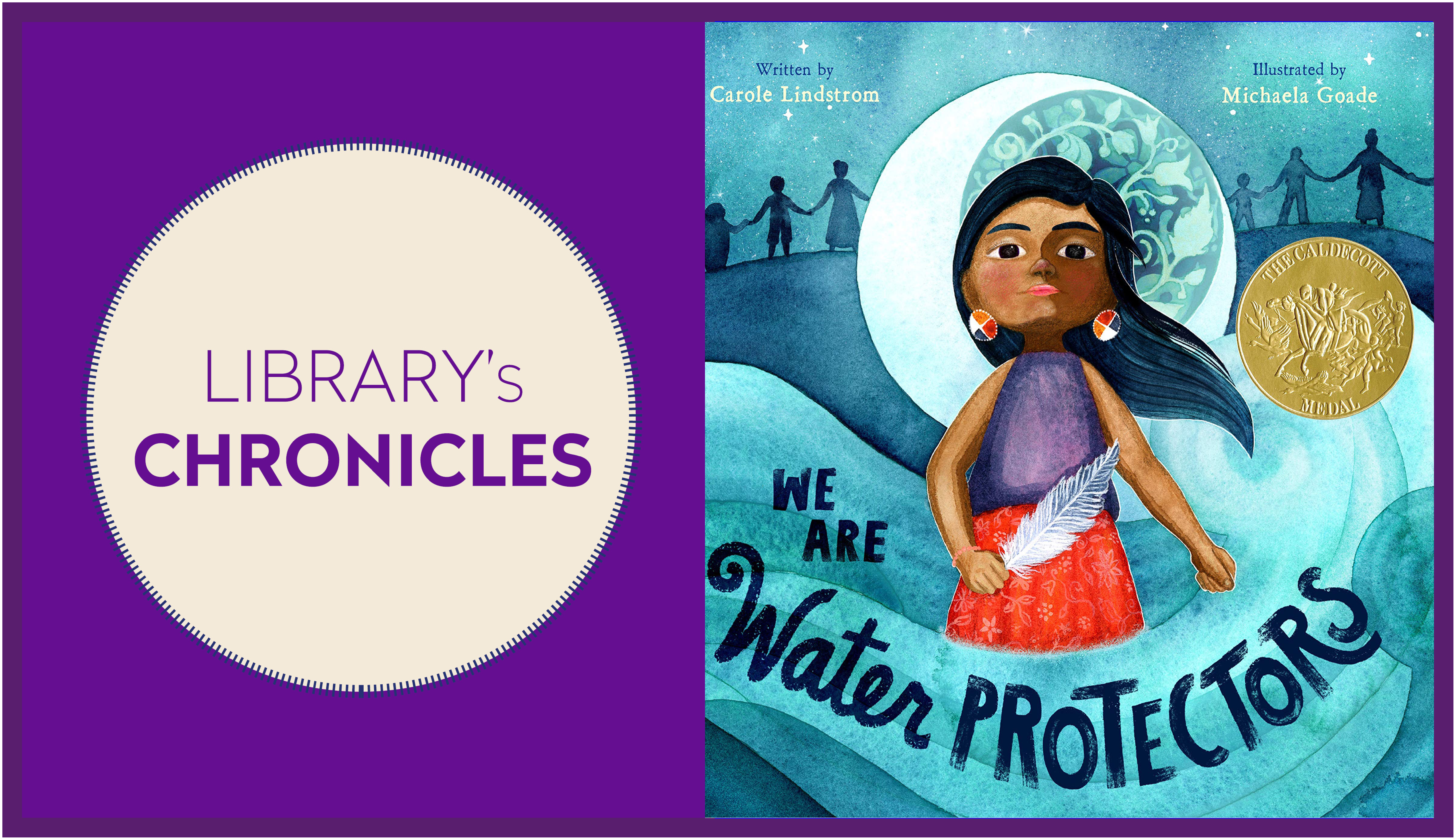 ★ Library's Chronicles ★ We Are Water Protectors
We Are Water Protectors – written by Carole Lindstrom, illustrated by Michaela Goade
Read Across America book selection (elementary level)
We Are Water Protectors is an exquisite, moving, and hopeful picture book about a young Ojibwe girl who summons the courage to unite her people and defend their sacred water against destructive forces. The young water protector recalls the beliefs of her tribe, that « water is life » and how « we come from water ». She remembers her ancestors' prophecy of the coming of a threatening "black snake", that would someday poison the water and threaten the plants and wildlife. When the « black snake » arrives in the form of an oil pipeline, she has no choice but to act. The award-winning author, Carole Lindstrom (Anishinaabe/Métis, member of the Turtle Mountain Band of Ojibwe) and illustrator Michaela Goade (Tlingit, member of the Tlingit and Haida Indian Tribes of Alaska) have joined their creative forces to honor the history of indigenous-led movements for environmental justice and sound a call to people of all ages and backgrounds to protect Mother Earth.
Lindstrom's text is spare, but powerful and profound, beautifully articulating the indigenous people's relationship to water and their land. The refrain "We stand/With our songs/And our drums./We are still here" celebrates the resilience of indigenous tribes throughout a collective history touched by tears and trauma. In the author's notes, she explains that the story's "black snake" is a reference to the Dakota Access Pipeline (DAPL), an underground oil pipeline in the United States that winds its way through North Dakota, South Dakota, Iowa and Illinois, criss-crossing tribal lands. Out of concern that leaks would destroy their water supply, wildlife and sacred tribal sites, the Standing Rock Sioux Tribe organized peaceful protests in April 2016 near the Cannonball River in North Dakota. These real-life « water protectors" led the fight in protecting the land and were eventually joined by members of over 500 indigenous tribes from all around the world and numerous allies. Some protestors stayed for months, even during the bitter cold winter.
Goade's vibrant watercolor illustrations are breathtaking and incorporate details that honor Lindstrom's Ojibwe culture (clan symbols, floral designs, traditional Ojibwe regalia). She deftly uses tones of blue, purple, turquoise, teal, green, pink in scenes that reference water and the natural world. Everything comes back to water: the young girl's people standing in water, touching it, pouring it, feeling it flow through their fingers, floating in it, weeping into it, their hair blending into surreal blue river waves studded with water lilies, fish and otters. The message is clear: we are water. She contrasts this imagery with the fiery reds, oranges and black of the menacing pipeline. One image in particular is hard to shake: that of a fish and bird floating next to the pipeline as a rainbow oil slick slowly trickles out. One half is the animal's graceful silhouette; the other half reveals a ghostly skeleton. The image is sinister, but not despondent. There is still hope, as shown in the empowering image of the young indigenous narrator holding an eagle feather and exhorting herself and others to « TAKE COURAGE! ». The fight to protect our Earth's water continues on a daily basis for many indigenous and historically marginalized peoples and readers, young and old, are called to join in and become stewards of the Earth because « We are all related. »
This book won the 2021 Caldecott Medal for illustration, the Jane Addams Peace Association Book Award in 2020, was a Kirkus Prize finalist for Young Readers' Literature and was selected for several « Best Book of the Year » lists (Shelf Awareness, Publishers Weekly, NPR, School Library, NYPL).
We Are Water Protectors – written by Carole Lindstrom, illustrated by Michaela Goade
Roaring Book Press, 2020
38 pages
ISBN 978-1-250-20355-7
Historical fiction, picture book
Themes: Indigenous culture/beliefs, environmental protection, environmental justice, Standing Rock Sioux protests
English level A1/A2, 4-8 years old
Available in the IFA library Kids' Corner: https://ifa-rennes.bibli.fr/index.php?lvl=notice_display&id=9443