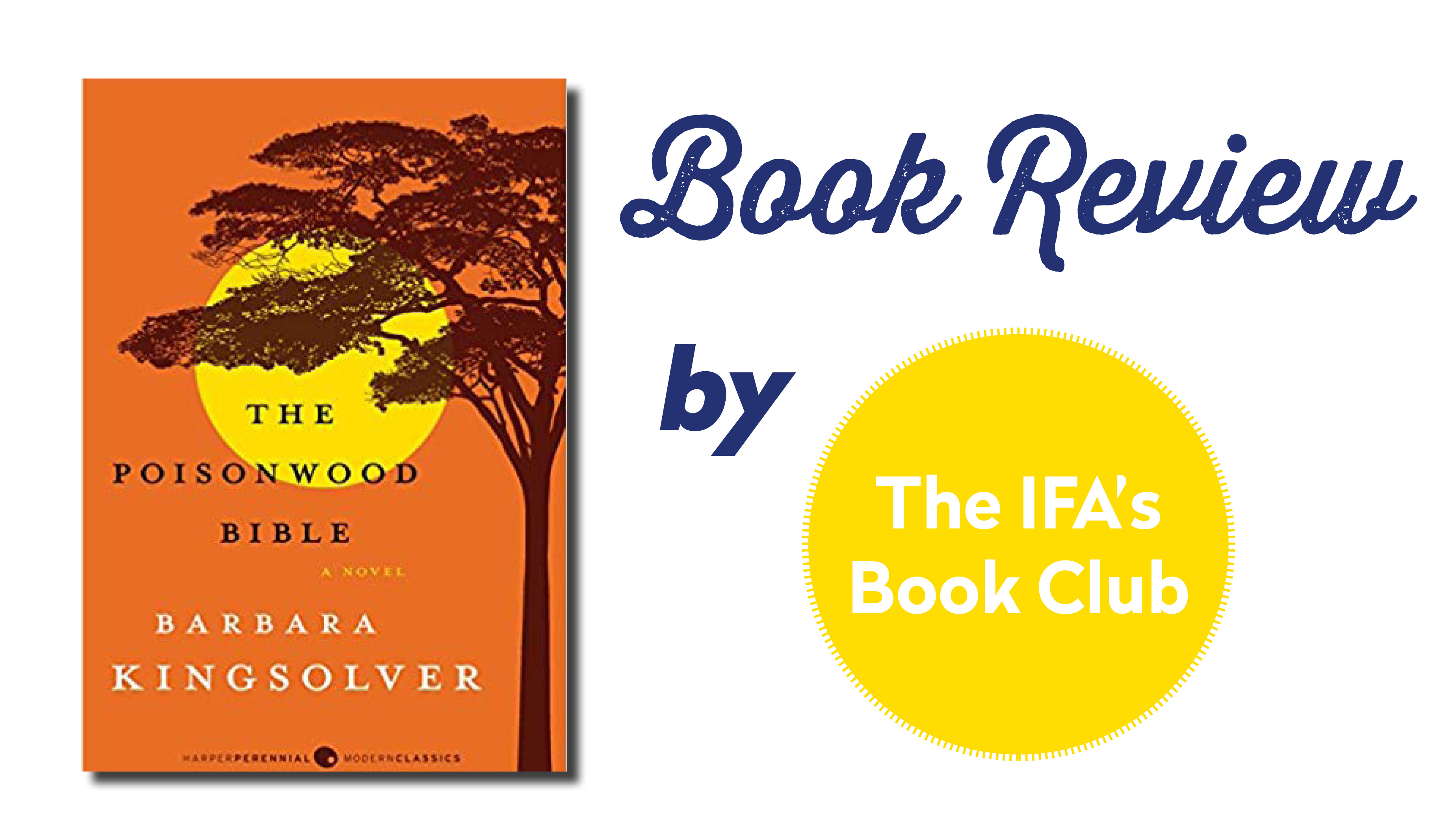 Book Club Review: « The Poisonwood Bible » by Barbara Kingsolver
Poisonwood Bible by Barbara Kingsolver (1998, 649 pp) -(4,3/5) ★ ★ ★ ★ ☆
IFA Tuesday Book Club Book Review by Virginia Manhard Lubin
The In this historical fresque that spans 25 years of the tumultuous recent history of the ex-Belgian Congo (once Zaire and today the Democratic Republic of the Congo), we discover the Congo through the innocent and unprepared eyes of a Southern Evangelical missionary family which finds itself quite by chance in a country at a crossroads of its destiny. As the Congo's fragile new path to independence is clouded by its colonial past, its underdevelopment, the immense battles for control of its vast natural resources and cold war confrontations, the Reverend Price, his wife and their four girls must work, live and spend formative years in a completely unfamiliar cultural and geographical landscape. Yet, each of them must navigate it with their own unique personalities, past wounds, and different degrees of resilience.
With her encyclopaedic knowledge of the Congo, its flore and fauna, the Kikongo language(1), her own childhood experience in the Congo, Barbara Kingsolver tells the Price family tale through the voices of its five women: 5-year old Ruth May, who adapts the most quickly, unencumbered by expectations typical of older American children, especially her frustrated oldest teenage sister Rachel; the non-identical pre-teen gifted twins for whom the Congo becomes their point of reference, despite themselves; and Orleanna, the mother, who understands so much more than her pious husband, and yet finds herself just barely managing day to day existence, aware that the family's survival depends on so much more.
Although we did not sympathize with the Reverend – intolerant, condescending, violent – we conceded that he may have been an undiagnosed victim of what we know today as PTSD, having been the only survivor of his unit during his World War II experience in the Philippines.
With poetic limpidity, Barbara Kingsolver contrasts African and Occidental customs, views and geography in the microcosm of Kilanga village, the Price's mission town: the daily battle against the indomitable destructive forces of nature – the fire ants which destroy everything on their path, the pitiless destruction wrought by the rainy season; the devastating effects of poverty and sickness; the infinite ways that death arrives: poisonous snakes, hungry lions, droughts, disease, merciless colonial bosses… but also the eternal union of man and nature which informs the lives of a people obliged to compose with the elements they cannot conquer and so they develop an astonishing acceptance.
There is so much more to say about « The Poisonwood Bible » – nearly each of its 649 pages is a poem in itself: pathos, humor, wisdom, philosophy – all are there. So dense is it, that some of us found the beginning a bit challenging to get through, but all agreed that once embarked on the journey, we would not have turned back for the world!
(1) »mawalala is rain far off in the distance that doesn't ever come. When it booms thunder, and beats down the grass, that is nuni ndolo, and the gentler kind is nkazi ndolo. These he called « boy rain » and « girl rain » pointing right to his private parts and mine… (p. 138)