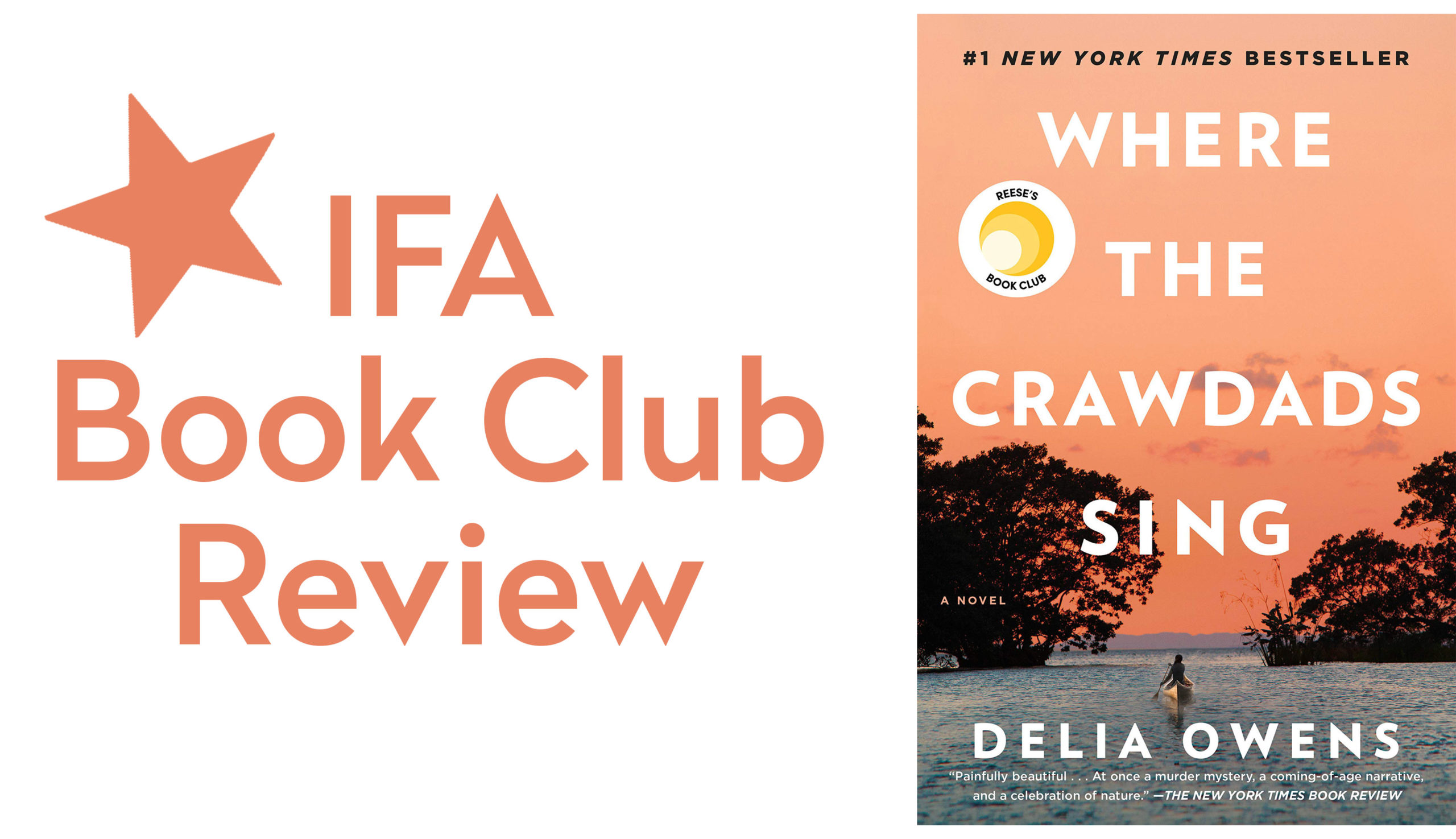 Book Club Review: Where the Crawdads Sing by Delia Owens
Where the Crawdads Sing by Delia Owens ( 2018, 368 pp) – (4/5) ★ ★ ★ ★ ☆
IFA Tuesday Book Club Book Review by Virginia Manhard-Lubin
When the book club discussed Crawdads in February 2021, everyone agreed it was a cinematic book – an analysis which has proven true as the film's French debut is scheduled for August 17, 2022 ("Là où chantent les écrevisses"). The title evokes the ever-present and unconquerable marshland wilderness of North Carolina's Outer Banks – a refuge from and a rampart against an imperfect human social order in a small town, sapped by prejudice and racism. In this context, Kya (Catherine Danielle) grows up alone after her mother, her siblings and finally her father, broken and humiliated by the depression and his cowardice in World War II, abandon her. Kya's greatest teacher is the natural world, and author Delia Owens, who is herself a zoologist and conservationist, reminds us periodically that the laws of nature are sometimes more savage, but also sometimes more just, than those of modern homo sapiens.
Humiliated in school, Kya refuses to return but reaching adolescence, her desire for human interaction leads her to go beyond her perfunctory contacts with the black storekeeper and his wife who have befriended her. It is in her tender opening towards the young people her age, and her painful disappointment in human behavior, and finally in the anguishing trial for capital murder in which she seems to be caught like an unsuspecting moth before a flame, that the reader is drawn into a masterful, empathetic enigma of a young woman's fate.
Delia Owens is indeed a powerful storyteller. From the beginning, a suspenseful criminal investigation and then trial are interposed with Kya's tribulations and delicate challenges of coming of age. Her desire to be part of a group, while everything opposes her own natural culture and moral compass from those of most of her young local homologues evokes a universal longing of trying to find connection despite culturally different origins. It is indeed Owens' ability to interject the universal nature of humanity into a story which is deeply grounded in an identifiable local atmosphere – we can almost taste the biscuits, mustard greens, grits, hushpuppies, fried shrimp and blackberry cobbler that are omnipresent at the diner and in Kya's kitchen and jail cell – that makes the novel so engaging.