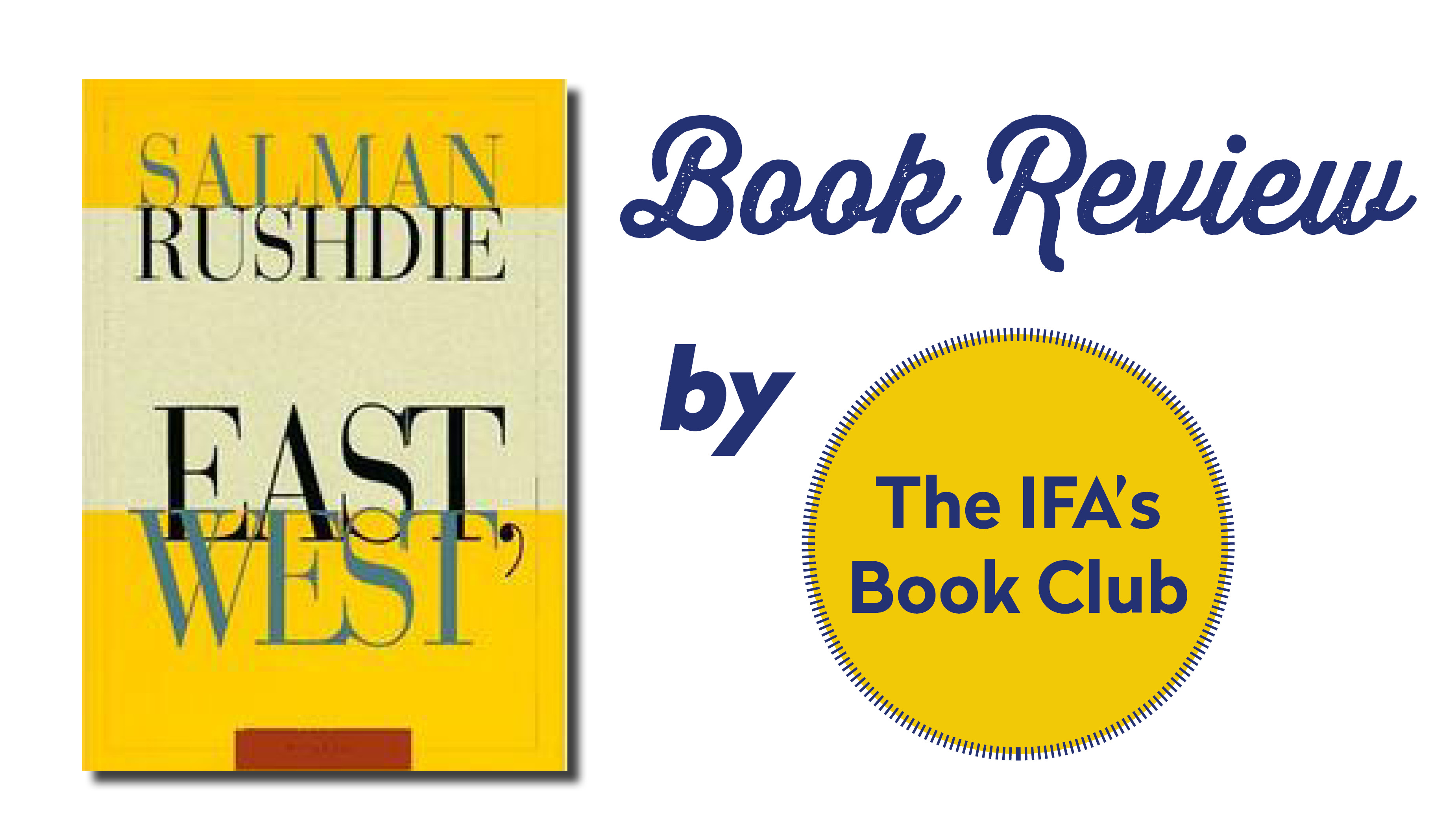 Book Club Review: « East, West » by Salman Rushdie
East, West by S. Rushdie (1994, 171 pp – Short Stories) – (4,8/5) ★ ★ ★ ★ ★
IFA Tuesday Book Club – A Book Review by Virginia Manhard Lubin
No wonder Salman Rushdie has been recognized throughout the world as one of the top writers of the 20th Century* – he plays with the English language with acrobatic and poetic dexterity, he dotes his characters with attributes that intensify and amplify their emotions, he invites his reader to explore a boundless universe of culture and intellectual heritage in a surprising variety of styles. Salman Rushdie is a literary incarnation of Blake's visionary who « sees the world in a grain of sand … and holds infinity in an hour.
Rushdie mercilessly challenges limitations on the human spirit – whether they arise from repressive patriarchy (« Good Advice is Rarer than Rubies« ), dogmatic religious practices (« the Prophet's Hair« ), rejection of alterity, whether it be national or religious (« Christopher Columbus and Queen Isabella of Spain consummate their Relationship« ), worshipping the material world (« The Ruby Slippers« ), unfaithful friendships (« The Harmony of Spheres« ), or family heritage (« The Courter« ).

East, West, as its title suggests, is a collection of stories about connection and divergences, of incomplete migrations in which we discover with humor and gravity the myriad facets of these two opposed cardinal directions and their influence on the characters caught in between.  In the end, Rushdie has given us a prism through which we understand that:
« …his characters have  » ropes around … [their] necks … pulling [them] this way and that, East and West, the nooses tightening, commanding, choose, choose, » but ultimately their freedom depends on their courage to refuse : « Ropes, I do not choose between you. Lassoes, lariats, I choose neither of you, and both. Do you hear? I refuse to choose." – The Courter
Some of the stories are so dense and full of literary analysis, that some of us found they too much resembled academic exercise to fully enjoy (« Yorick« , for example, an imaginary prequel to Hamlet), but overall, we were subjugated by these brilliant stories. It is little wonder that every country associated with Rushdie – born in India, educated in the UK and now a US citizen living in New York –  seeks to claim his literary heritage as its own, and yet as East, West so beautifully illustrates, it is impossible to relegate Salman Rushdie to a single identity.   
*The Times ranked him thirteenth on its list of the 50 greatest British writers since 1945; his second novel, Midnight's Children (1981), won the Booker Prize in 1981 and was deemed to be « the best novel of all winners » on two separate occasions; in 1983 Rushdie was elected a fellow of the Royal Society of Literature, the UK's senior literary organisation; he was appointed Commandeur de l'Ordre des Arts et des Lettres of France in January 1999 and knighted by Queen Elizabeth II in 2007 for his services to literature.